Kim Kimberlin
Kim Kimberlin lives in Seattle, Washington, where she and her husband Eric are professional photographers. Throughout Kim's career, she has had the opportunity to work with brands such as Urban Outfitters, Airbnb, UNICEF, and Ted Baker. We had a chance to speak with Kim and learn more about her work.
Having had much success in working with brands such as airbnb, microsoft, and ted baker, what's your advice for those looking to pursue their creative passions full-time?
Don't be lazy. It takes time, a lot of trial and error and a ton of perseverance. It may feel like you're shooting work you could care less about for forever, before your dream client finally reaches out, but don't give up. Even if you're shooting for a client that you don't care about, you can still learn so much. Use those shoots as your education and an opportunity for you to experiment and learn new lighting techniques or even to develop the business side of your photography company.
Also, do not compare yourself to others! If you have to, stay offline. While I love Instagram, it's caused the photography world to become heavily oversaturated with photographers. You see all these people posting about their beautiful adventures, perfect homes, and shooting for their dream clients. What you do not see is that perhaps most of their travel photos are from one particular trip (spread out over months), or you see the only clean corner of their house (because truthfully, I only have one clean corner of my house) and their dream client may be their only client that month, or even year. You can't focus on other people's work. Find inspiration through books, magazines, at art galleries or through music. Then take out your camera and start shooting.
Lastly, learn about marketing and how to pitch things with clients. I wish I had learned about that sooner in my career. I'm a very quiet person, but I think if I had pushed myself earlier on to be more aggressive with clients and pitch work to them, I would be a lot further than I am today.
How would you best describe your style?
I never really know how to describe my own work. Instead, I will tell you what I'm drawn to. I love color, but also simplicity. I love solemn scenes but also for things to be a bit playful. I guess I'm attracted to opposites, and how they can blend together. Overall, I like quiet things.
How do you think your aesthetic/style has influenced Eric's work and vice versa?
Wow, this question is so interesting to me! Eric and I work closely together on a lot of our creative projects, and yet, our work couldn't be more opposite. Sometimes I wish we were more similar so we could collaborate more, but I think those differences have allowed us both to grow as photographers and in other creative pursuits. I've taught him a lot about the technical side of photography when it comes to camera settings and studio lights; he's taught me a lot about improvisation and how to look at things from entirely new angles. We joke about me being very Type A, and him being self-described as "Type LMNOP." We balance each other out well, and challenge each other to see things from a different perspective. It has allowed us both to grow. It's really great!
What is your preferred medium for creating new images?
Call me a true millennial (but not the cool, hip one who has reverted back to shooting film). I shoot 99% digital (Canon, some Sony and my trusty iPhone), and while I love to shoot film on the occasional road trip, developing my film is another story. I have countless rolls sitting on my shelf waiting to be developed. It will be fun when I finally do develop these roles because I can't even remember what's on them.
How do you hope to see your work evolve over the next 5 years?
A little over three years ago I started shooting interior and architecture photography for a few different long term clients that I still work for today. As a portrait photographer, never in a million years did I think I would enjoy shooting interiors, but I have completely fallen in love with the art of it all. Over the next 5 years, I want to continue building my interior portfolio and working with high end clients for magazines. My dream (and perhaps this is every photographers dream*) would be to travel* all over the world shooting interiors (with a few portrait sessions in between).
Any upcoming projects that you can tell us about?
I have a client shoot coming up that will be combining interiors with portraits, so I'm very excited about that, and being able to connect a human to the space around them (I find this connection absolutely fascinating!). My husband and I also bought tickets to Europe this fall. I've never been but have been dreaming about this trip my entire life. And so, even though it will be a vacation for us, the entire trip will become a creative project with new surroundings (and lots and lots of food).
For you, how does writing differ from your photography in terms of creating an outlet self-expression and experimentation?
Don't get me wrong, I love being a photographer and feel very blessed to have a career that I love, but writing is my true passion. It's also perhaps why it's taken me so long to pursue writing on a professional level. As soon as money is exchanged, a project often becomes for the client, and not for yourself. Writing is so personal for me that I refuse to make it about the client. You can't pay me to say anything I don't truly believe in, and so for most of my life, I've kept writing as a hobby. It was only last year that clients started approaching me to write for them because they like my voice and what I write about. I now write commission pieces but the direction of the pieces have been left entirely up to me, which has been wonderful.
As for what differs between photography and writing… In a world that is so fast paced and driven by technology, photos are digested in a nano second and then quickly forgotten. For someone to stop and read something I've written, it means they have to slow themselves and take time out of their day. They have to be intentional and be willing to go a journey. Photography is about the moment, writing is about the journey. I'm always lost in the journey, which is why I love to write so much.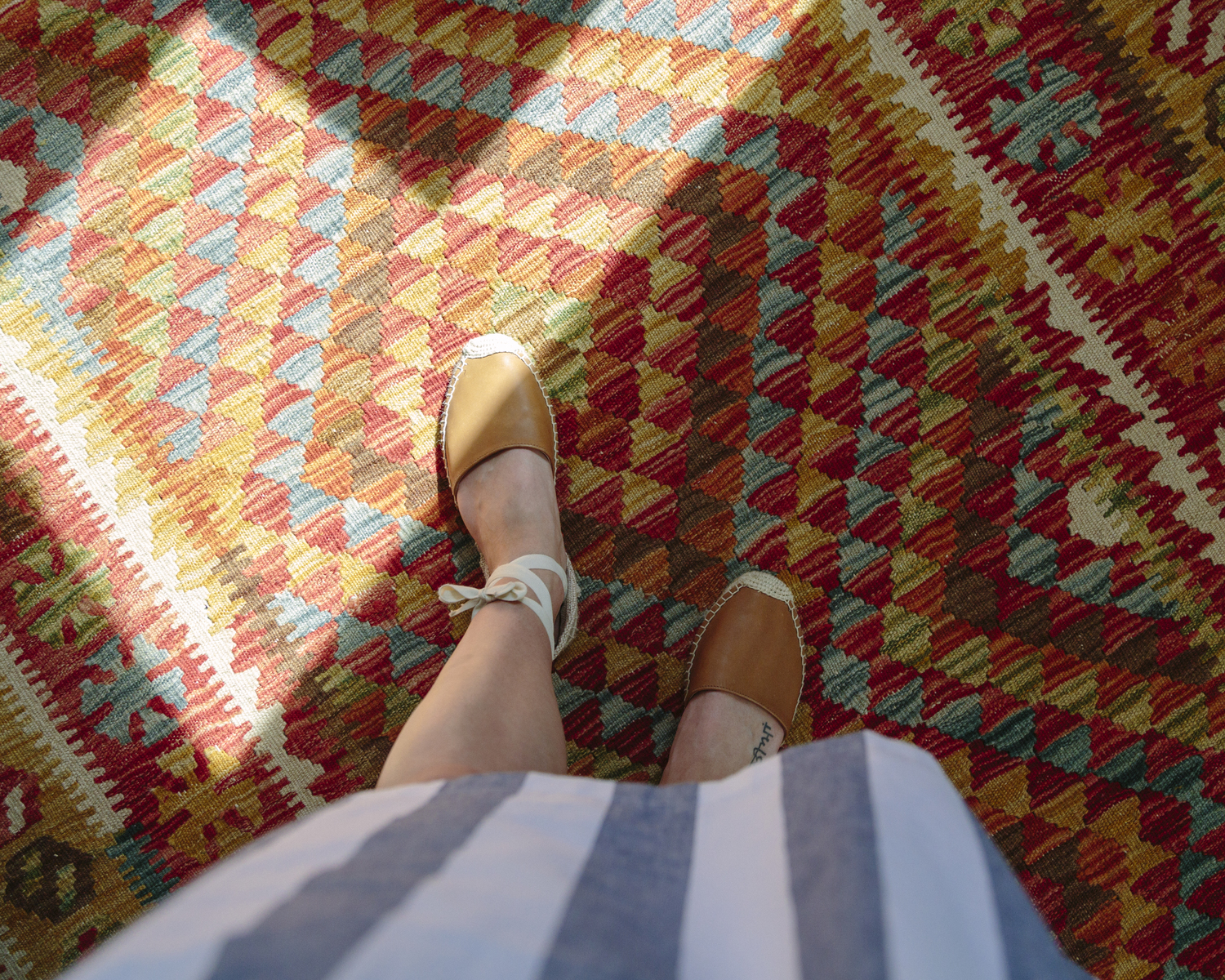 What is your favorite part of the creative process?
Shooting, and shooting alone. Earlier in my career, I did everything (conceptualizing, styling, shooting, editing, location scouting and more). I did enjoy pieces of each, but I quickly became burnt out. Now, I leave those jobs to the professionals. I always hire a stylist, makeup and hair stylist. If there's the budget, I love having an assistant and someone who can work on the production side of things. This allows me to focus solely on shooting and how I can turn the image in my head into real life. For some clients, I don't even edit the photos anymore (there's an outsourcing fee put into the budget). Editing is my least favorite part. I'd rather be outside with my husband and dogs than sitting in front of my computer (unless, of course, I'm writing!).
Where do you find your inspiration?
Music is huge for me. I generally listen to music while I write. For photography, it's often in old magazines. Sunlight is also a huge inspiration for me. I can be sitting in the same empty room for days on end feeling completely uninspired, but then the sun will glisten through the window, and suddenly the same, uninspiring room becomes an entirely new world. I'll experiment and shoot for hours with whatever is in front of me. Books in the sunlight. My hand in the sunlight. Curtains in the sunlight. Anything in the sunlight.
What's your favorite image that you've taken? Why?
Oh, it's hard to just pick one. One that always stands out to me is a portrait I took of Eric before we were dating. Neither of us smoke, but for some reason I bought cigars that we took on a road trip when I was showing him a part of Canada (where I'm from). We had driven somewhere in North Vancouver and the roads were covered in a thick fog. We pulled over and he stood outside to light a cigar while I stayed in the van to keep warm. He was perfectly framed in the window and I snapped these photos with my iPhone. I think it's the memory of these photos that comforts me the most. It was cold and foggy, music was playing, we were young, carefree and falling in love...