Santiago Gonzalez
Santiago Gonzalez is a cinematographer based in New York. He has been shooting for 9 years and has shot for artists and brands such as Drake, Bruno Mars, Beyonce, Air Jordan and Tag Heuer.
How did your cinematography career begin?
I went to college knowing that I wanted to study film. I ended up attending Boston University's film program, which at the time was mostly film theory, but also had some film production classes, editing classes, and a cinematography class. The great thing about the program at the time was that they were still exclusively shooting on film, so we shot our projects on a Bolex H16 Rex 5 camera and later on an Arri SR3. We also edited reel-to-reel on Steenbeck flatbed editors, which was a lot of fun. I spent a lot of time in those tiny edit suites. When I first arrived at the film program, I thought I wanted to direct, which I did on a couple of projects, but it wasn't until we started our actual production classes, as teams, that I realized I wanted to be behind the camera.
One thing I didn't get from Film School was hands on experience. Luckily, in my senior year, I was able to intern at Boston Camera Rental Company, which was the leading camera rental house in Boston. The intern program at that time was run by fellow BU alum, Hillary Spera, who now is an amazing DP based out of NYC and repped by Gersh. She really taught me a lot about the gear and it was a great time to be there. Since the HD revolution was in full swing at the time, I was able to learn about both film cameras and new HD cameras like the Varicam, F900 and Viper. Hillary offered me her full time position at Boston Camera when she moved to New York. So I became a prep tech and I started meeting a lot of AC's in the industry. Eventually one of those AC's brought me on as a loader onto a union feature. He and other union ops and AC's vouched for me to get into the Local 600 as a loader. It was a really tough feature—shooting mostly nights in the middle of a Boston winter. Loading film in a camera truck without heat really made for an interesting loading environment. I ended that feature exhausted and pretty broken down. After that, I wasn't really convinced it was for me and I ended up moving to NYC to look for options.
When I got to NYC, I started working at a digital capture company for commercial photography, called Industrial Color. At the same time that film was having a digital revolution, still photographers were also going through the same thing. Industrial Color was the leading digital capture company. They paved the way in digital acquisition and helped photographers with a digital workflow using digital backs and Capture One. I was EQ manager there and then quickly moved on to producing. In '08-'09, RED cameras started coming up in conversations with our clients and Industrial Color knew I had experience with film and video, so they asked me to shoot the RED One for one of our photographers in LA. When I returned, I knew that RED had paved the way for video on a photographer's set with high resolution stills off of the footage. I reported back to Industrial Color's CEO that I thought we needed to immediately jump on board and have this option at a professional level for our clients. I also mentioned that I wanted to start and run a video department for them and could DP any projects that came in. To my surprise, they said yes, and I wound up outfitting a couple of RED ONE bodies along with some DIT stations and also started up a small post house within Industrial Color, eventually staffing 3 editors, a colorist, and a flame artist. After working as a DP through Industrial Color for about 6 years, at first just camera operating on photographers sets to eventually having photographers trust me with both lighting and operating, I had enough on my reel that I was able to reach out to several agents and finally signed with Partos. I left Industrial Color in 2015 and have been a full-time DP since then.
Was there a particular project that ended up being a turning point in your career to where you are now? Or was it more an accumulation of your work over the years?
I think it ended up being a combination of work over the years that got me to a big turning point in my career. A lot of the work I was doing at first was with photographer/directors shooting for fashion films and beauty clients. It was specifically because of that fashion aesthetic that I was considered to work on Beyonce's Lemonade, which was a big turning point in my career. Even now, I'm still getting calls because of my involvement with the project, and I'm proud of the contribution director Dikayl Rimmasch and I did on the film.
You have shot for some A-list talent such as Bruno Mars and Beyonce. What is it like working with them? How much creative control are they getting on set?
My experience shooting with that caliber client is that they're very involved either during the shoot or in post. They and their team are there to protect their brand, which at times means shooting something differently than how we prepped it or shooting something entirely new. When shooting for that kind of artist, I tend to over-prep. The way I see it, having multiple plans that build off your initial creative and lighting plan is the best way to prepare. Lighting Plan A is what you and the director would like to achieve and what I have communicated to my keys, but maybe the artist only wants to perform in this area of the location, maybe they thought the lighting would be different, maybe they have their own ideas of what it should be. Whatever the case, I want to be able to pivot from Plan A to a Plan B by maybe switching a unit or two off or moving a unit a short distance somewhere else. I always try and have a Plan B and C in my back pocket, something that I can achieve as a variation to what we have planned to setup that way the crew can pivot quickly. With that caliber of artist, changes happen often and you need to adapt quickly.
What would you say are your favorite projects to shoot - music video, commercial, or narrative? Why?
I enjoy shooting music videos because of the freedom you have with the concept and the ability to try new things without a million clients saying "it's too dark" or "it doesn't fit what we're trying to sell," etc. Commercials are great because I usually have the sufficient crew support to try one or two new things or really get to the next level in execution. I also kind of love the constraint that commercials put on you creatively. You have to work a little harder to make things interesting or take chances once you have content boundaries you can't cross. I haven't done much narrative currently in my career, although I did just shoot a 25-page short in upstate New York this past June. It was a really great experience, and I learned so much about the process and about the value of picking the right crew. You have to consider personality as important as the level of skill in a crew member, especially when it comes to a short film. I luckily have crew members in NYC that I consider very close friends and it was the reason we were able to complete the short.
"24K Magic" is one of our favorites from you. What's the process like shooting a video of such magnitude? Was the project tough or easy for you to execute?
24k was a huge project for me. At the time, I had a lot of experience lighting in studio and I hadn't shot a lot of exteriors. I had met producer Jeremy Sullivan on a past job and he really was the one pushing for me to jump on the project. He had enough pull to make it happen, and I ended up on the job equal parts completely nervous and excited. The best thing that really helped me with the job was that we were shooting over the Memorial Day holiday. We scouted a couple of days beforehand and then had two down days in between the scout and the first day of the shoot. Those two days saved me, specifically because on the scout, our Director, Cameron Duddy, turned to me at every location and said "I'd really love to see the entire location here so I think we should light for 360 shooting." Those two days were when I prepped the lighting plans for all of my locations and again not only Plan A's for every location, but up to Plan C's on some. We had so many locations to shoot in a tight schedule that I asked to have a small pre-rigging crew that could be jumping one location ahead and prelighting to keep up with the schedule.
As always, there are hiccups, and our plan A lighting needed to be tossed out the window once talent arrived due to some confusion in pre-pro references. Very suddenly, location 1 and 2 needed to be re-thought in 20 minutes and luckily, I had Plan B to fall back on. Either way, because we were doing new lighting plans, my gaffer and I would literally sprint from location 1 to location 2 through the Bellagio service hallways to dictate changes to the location 2 lighting and direct the pre-rigging crew and then sprint back to location 1 to do another take. We finally got caught up and everything else went according to plan, but I'm not sure how the video would look if it wasn't for the prep days I had prior to the shoot.
You've also done some great beauty work. Can you explain the difference in lighting used in a beauty video vs a music video or narrative?
One of the main things when thinking about lighting for beauty is keeping the skin looking clean and bright and having depth and life in the eyes. I use a lot of bounced light in beauty work. The softness created by bouncing the light really cleans up the skin and possible shadows. One of my go-to lights for beauty is a Briese. The parabolic light is basically a large bounced source that can be focused and flooded as if it was direct. I also use diffusion filters more often on a beauty piece. Some of my current go-to diffusion filters are Hollywood Black Magic, Black Digital Diffusion and Black Promist. I use a lot of the same techniques on music videos. Having a good beauty reel always helps big artists feel a bit more comfortable with your work.
What has been your favorite project to work on thus far into your career?
Recently, I shot this little short film "West Texas" for Photographer/Director Jeff Vallee. Jeff was looking to bolster his director's reel and after he mentioned some of the locations, including White Sands National Park and Marfa, TX. I was intrigued. The crew was tiny - Jeff directed, our friend Jason O'Neal was shooting stills and also helping as my AC, and ex-pro-skater Heath Kirchart was shooting 8mm and PA'ing for us. That was it. Jeff had a loose story in mind, so filming was spur of the moment and dependent on available light. I had a small camera package and we just were reactive to things we came across. I loved being able to see something I wanted to shoot and quickly being able to shoot it—free from a complicated build, client input or crew size. We ran around like maniacs and we were very happy with what we got. The piece is called West Texas and you can see it on my site.
You have recently shot Drake "In My Feelings." Can you explain a little about the creative process behind it, where you shot and why? Was it a difficult project for you? Was also some of it shot on Super 8?
The project was a little crazy in that we had to prepare and shift with Drake's schedule. When I was brought onto the job, some of video had already been shot by DP Jordan Oram, who was unavailable to finish the job once dates shifted. He had established a look for some of the B-Roll that was shot in New Orleans and Karena wanted to continue the look for some of the remaining portions of the video. We were originally going to shoot the remainder of the video in LA, which we did for a couple of more days of B-Roll, but then Drake's availability shifted and we were sent back to New Orleans. I decided to change the lenses once we landed in New Orleans to Super Speeds provided by Panavision and a Cooke 18-100 Varotal Zoom. The Super Speeds gave us a little texture in the image but with some bloom to the highlights. We had a lot of locations so one of the main things was to organize crew accordingly. The tough part about the shoot is that we had so many locations. We had a small amount of time per setup and at times we had pre-rigging crews and splinter units of G&E. The super 8 was shot by Karena. She would follow the camera while we directed and both watched her directors monitor and sporadically shot the film camera when she saw something she liked. I think the footage looked great and worked well with the B-roll and the more stylized skits.
If you had to give one piece of advice to a young DP what would it be and why?
I would say it's all about taking risks and shooting as much as possible. Shoot everything you can for many different projects so you can learn from your mistakes and experiences. Shooting different kinds of projects will also narrow down what you're interested in working on and help define your style. All experiences are good ones even if they seem bad in the moment - everything in this business is a teachable moment. Take care of your crews and they will take care of you. Treat them like family. If you don't feel nervous or anxious before a job, then maybe you shouldn't have taken it; it's been my experience that I shoot some of my best work when I start a project feeling anxious—it makes you prepare and think about what you'll bring to the table. I guess that's more than one piece of advice.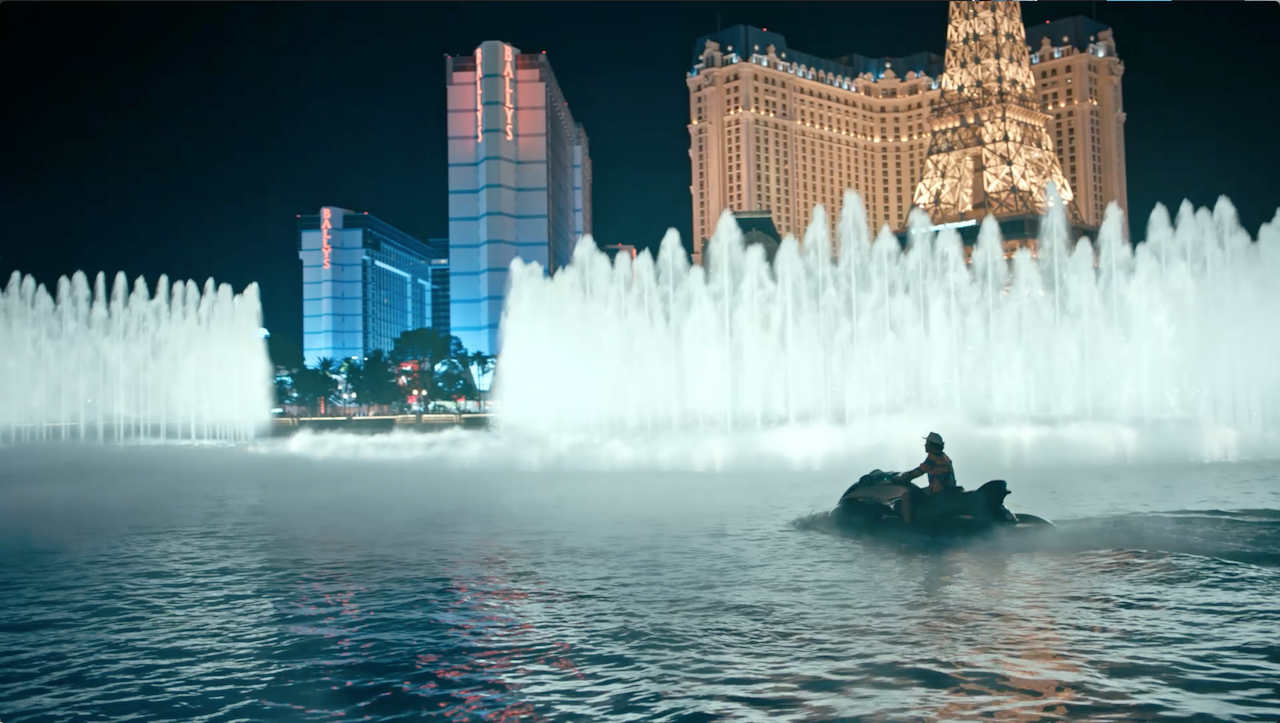 Any upcoming projects you would like us to know about?
There is another music video I shot with director Karena Evans that I'm excited to see come out. Besides that, I have a couple more music videos on the way as well that should be out later in the year. It's always exciting to see what's around the corner, you never know what kind of project will turn up.
More of Santiago's work can be seen on his Website and on Instagram