Bruce Francis Cole
Bruce Francis Cole is a cinematographer based in New York and Los Angeles. Over the course of his career, Bruce has shot for clients such as SZA, Air Jordan, Nike, and VSCO.

How did your cinematography career begin?
My love of art started when I was very young. Although I grew up fairly poor in the inner city of upstate NY, I was lucky to have an early encounter with visual art that shaped me for life. As a kid, I used to sit in the hallways waiting for my mom to come home from work. At the time, graffiti was exploding on the scene. Although the hallways were dark, gritty, and filled with litter, the walls were always plastered with these vibrant colors and immaculate designs. I soon began to use all my idle time to create works of my own. My cinematography career however, began by accident. I was set to study fine art for my undergraduate studies at the time, but North Carolina didn't have any strong programs. So, I enrolled in a fairly new filmmaking school (UNSCA - School of Filmmaking) with no idea of what to expect. At the time, I didn't know what a cinematographer was. Eventually, I made the connection between my love of fine art and filmmaking. In film school, so many students wanted to focus on directing their own films, so I was able to serve as DP on many projects. I really enjoyed sharing, and the art of collaboration. Because of this I accelerated pretty quickly.
What is your favorite type of content to shoot? Music videos, narratives or commercials?
Sports commercials are rewarding in so many ways. Working with athletes is a constant reminder of what you can achieve if you stay healthy, focused and clear. Honestly, I love shooting all types of content, but I would have to say shooting narratives would be my favorite.
Why? I have discovered over the years that if I can sink my purpose into shooting content more connected to the human experience, then my ideas have so much more room to expand. I really enjoy breaking down a story and exploring the truth behind why we do things as humans. I'm not very interested in how "pretty" or "glossy" an image is. It excites me more if it evokes a particular type of emotion. Creating a visual arc allows for certain types of intuitive rhythms to be developed even on the smallest of budgets. I find that narrative projects tend to have the most grounded reasons to build your arc around. This idea is still new for me. I've only begun to implement it into my work over the past year.
You have done a lot of work for Nike and Air Jordan. Can you explain what it's like working with such large brands? How much creative control do you end up getting?
My work with Nike and Jordan brand was such a great experience. It's interesting because the relationship started out as a casual in-house job. I was hired along with the director to capture content during a training gear testing event. We put together a treatment to make the shoot a bit more creative while still being able to move spontaneously as we captured the football players testing out the gear. Because my partner and I were used to operating with far less of a budget than they allotted, we put the money towards more sophisticated equipment like a phantom slow motion camera, anamorphic lenses and multiple steadicams. In the end, Nike loved the piece so much that they replaced their main ad campaign for that quarter with our spot. They also featured it on their site for 2 years. This led to more work with the company in several capacities to this day. Because we came in under the label "Content Capture" with no agency treatment to follow, we had huge freedom to do whatever we wanted. The biggest challenge was to stay a fly on the wall while trying to keep a cinematic feel. I had a huge say in terms of what we could do to push the envelope. This isn't the norm. On most of the other commercials I've shot for Mcdonalds, Reeses and a few others, the Ad agency usually has their boards and then the director will do her or his own shooting boards. By the time it reaches you, you're kinda secondary to the vision at hand.
Out of all the projects you have shot, is there one in particular that stands out as your favorite? Why?
I would have to say the project that stands out the most thus far would have to be a piece I did for the VSCO platform and app called Conversations with Otura Mun. It's a doc-style piece that tells the story of one man's journey to find his place in a new life. I mention this piece because it transcended the typical filmmaking experience. I can appreciate the universal film languages that have developed over the decades. Although they help us create and digest visual story-telling with ease, I find it rather boring when we don't break out of conventions and experiment within the art form. In particular, with Conversations, the process was completely new. The director (Omid Fatemi) had me listen to a 3hr interview he did with a musician. I would listen to this anytime I could; e.g. cooking, jogging, driving, and plane rides. After I had these audio bytes embedded in my psyche, I made a list of images completely disconnected from the literal interview. Once we arrived in Puerto Rico, Omid would set up random scenarios with Otura Mun that he had interpreted from listening to the interview. It was the my job to frame and capture elements solely based on my intuition and previous prep. We shot for 16 hours a day following him around through his routines. Omid then took all the audio and video back to L.A. and had an editor re-interpret everything. I love experiences like this because it challenges they way we have grown accustomed to constructing our stories. Once we break those rules, the rest becomes completely free from and a new standard can be set. It's like Jazz compared to classical composition, or Impressionism to Baroque, or any art movement that makes a shift into a new style.
How do you approach lighting? Was lighting always something that came natural to you?
Lighting always came easy to me after I learned how to use the equipment. Since I had a background in painting and visual art, I saw the frame and the canvas the exact same. I took a few classes in theatrical lighting design while in film school and briefly worked as a Lighting Designer in Oakland, CA. Eventually, I moved to SoCal and worked my way up through the electrical department from Electrician to Best Boy to Gaffer. That training allowed me to have better control and management over my crews. Even to this day, I'm comfortable lighting my own sets. In the beginning, I would think mostly in terms of lighting. I thrived on how a bold and contrasty a scene was lit. I'm a fan of the Chiaroscuro Technique and used it for inspiration for my music videos early on. However, over the years I have begun to lean toward natural light with a twist of expressionistic quality. I tend to express myself through the use of color. After shooting so many micro-budget films, I got really inspired by the French New Wave and what they did with nothing. I loved the collaborations between Cotard and Godard. Recently, I've been studying the way cinematographers like Benoit Debbie incorporate bold colors and textures into scenes that feel so organic and unplanned.
Who are your top cinematographers of all time? And what do you think inspires you?
Like most DP's, I have a ton of top cinematographers for various reasons. But, I'll list the most exciting cinematographers to me: Benoit Debbie, Christopher Doyle, Matthew Libatique, Vittorio Storraro, Mark Ping Bing Lee, Malik Sayeed, Slawomir Idziak, Robbie Ryan, Robbie Mueller, Greg Fraiser, and Emanuel Lubezki… to name a few. These are a few of my go-to cinematographers for understanding how to push visual expression, while keeping it story driven. I'm also really inspired by "exciting" filmmakers. I love autures in all art forms. I believe that some audiences are smart and they come to the theater to have a truly unique experience. These are the types of audiences I like to cater to.
Where would you like to see your DP career in 10 years?
In ten years, I'd like to see myself working internationally on feature films with directors who have very strong visions. In the U.S., I would like to see myself working on mid-range, comfortable budgets where the team still gets to experiment and not worry about the studios fears. I really would like to just be healthy, provide for my family, be able to choose great projects/partnerships regardless of money, and remain true to the kind of human being I want to be. I'd like to find a small group of solid collaborators who believe in the same core values I do about art, inclusiveness, and sustainability. I care less about massive crews with big budgets and more about what we are leaving behind.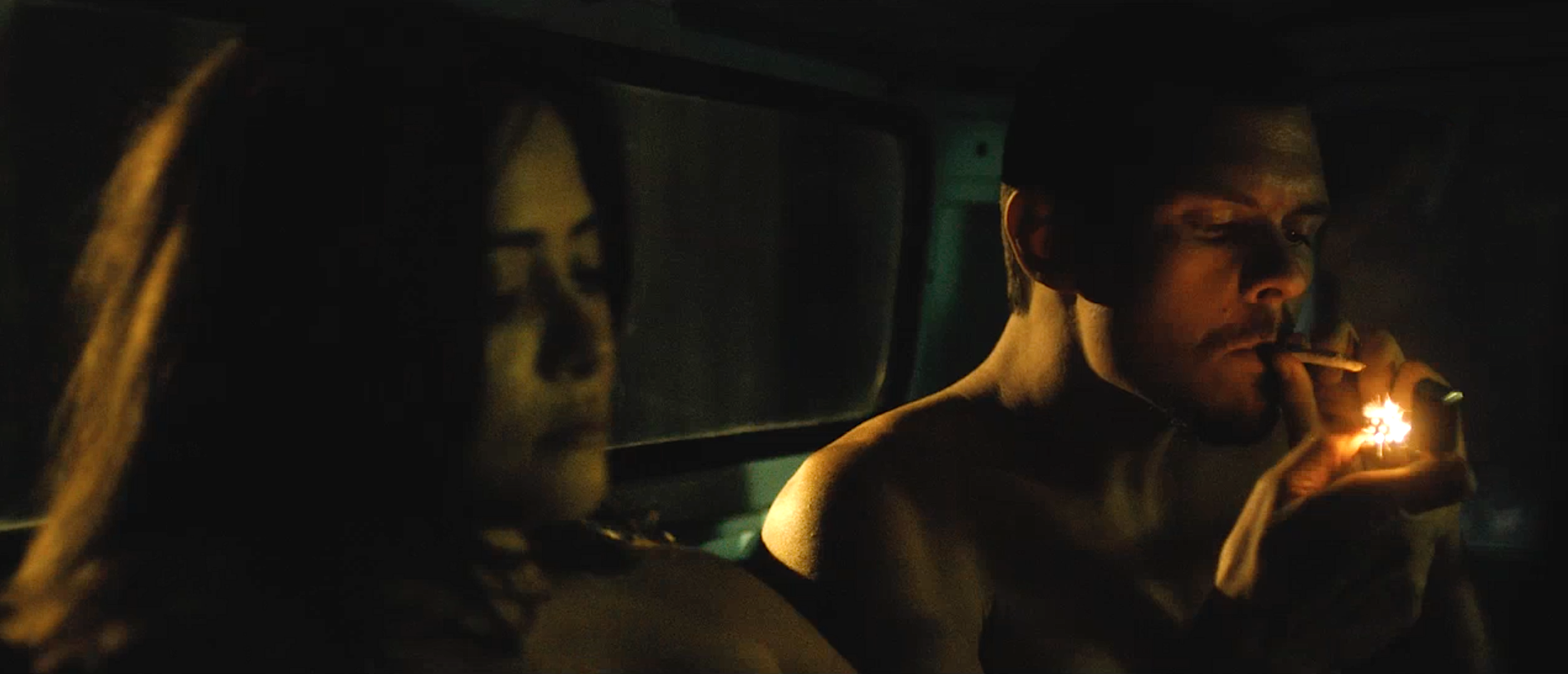 Any upcoming projects you would like us to know about?
I'm working on a new video installation commissioned for the 2019 Venice BiennaleI, and also have a film called "Jinn" directed by Nijla Mumin, which has just been released in select theaters and VOD last week. It a sweet coming of age story about a young girl navigating her way through her senior year, her mother's new found interest in Islam, and her sexuality. I really enjoyed how it turned out. It's filled with tons of serendipitous moments along with cinematic intuition.
More of Bruce's work can be seen on his Website and on Instagram