Shawn Hubbard
Shawn Hubbard is a photographer based in Baltimore, Maryland. Shawn's work is known for its crisp, clean, and moment-driven characteristics. Throughout his career, Shawn has shot for clients including the Baltimore Ravens, Under Armour, and The Wall Street Journal.
How did you first get into photography?
Shooting black and white film in high school. I loved the darkroom process. At the time I never really saw it as a career option, but I was hooked.
What has the journey been like from the first time you picked up a camera to now shooting for clients such as The Baltimore Ravens and Under Armour?
It's been an adventurous one for sure. I came out of college without any real practical knowledge of commercial photography (shocker!) and every moment since has been a learning experience. I never assisted an established photographer before going freelance, so I had to figure out a lot of things on my own. When I started shooting for the Ravens, I had never photographed football on a level much above Pop Warner, but I was given an opportunity because my work had emotion and I saw things differently than what they were used to at the time. Luckily, that transitioned well when I started shooting professional athletes. If you have a creative eye and seek out moments, you can figure out the technical stuff along the way. I've also been fortunate to build a relationship with a mentor who has really helped me grow as a creative (shout out to Tim Tadder). Despite how far I've come, I feel like I'm still at the beginning of my journey. I hope I have a lot further to go, but I'm fortunate to be where I am now.
Compared to other types of sports photography, what unique challenges does shooting football present?
I think a lot of sports photography has the same challenges. I don't know if any are totally unique to football. Those challenges tend to be trying to make sharp, well composed images with the "feeling" of fast moving athletes on a huge field with big, cumbersome equipment, without any more than a hunch of where they're going in front of a super cluttered background as other athletes and referees block your view, occasionally while it's raining or snowing. So, ya know…it's pretty easy.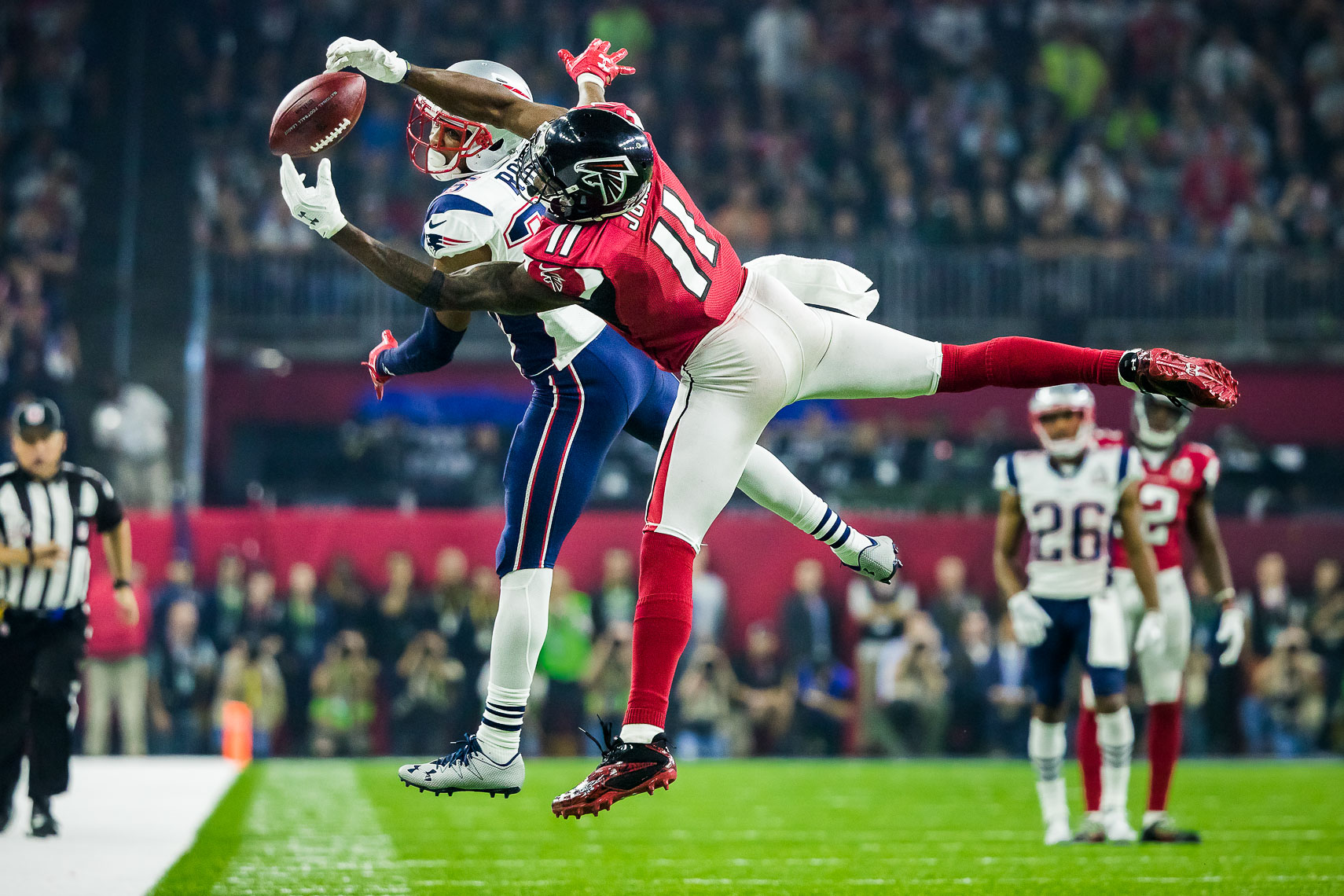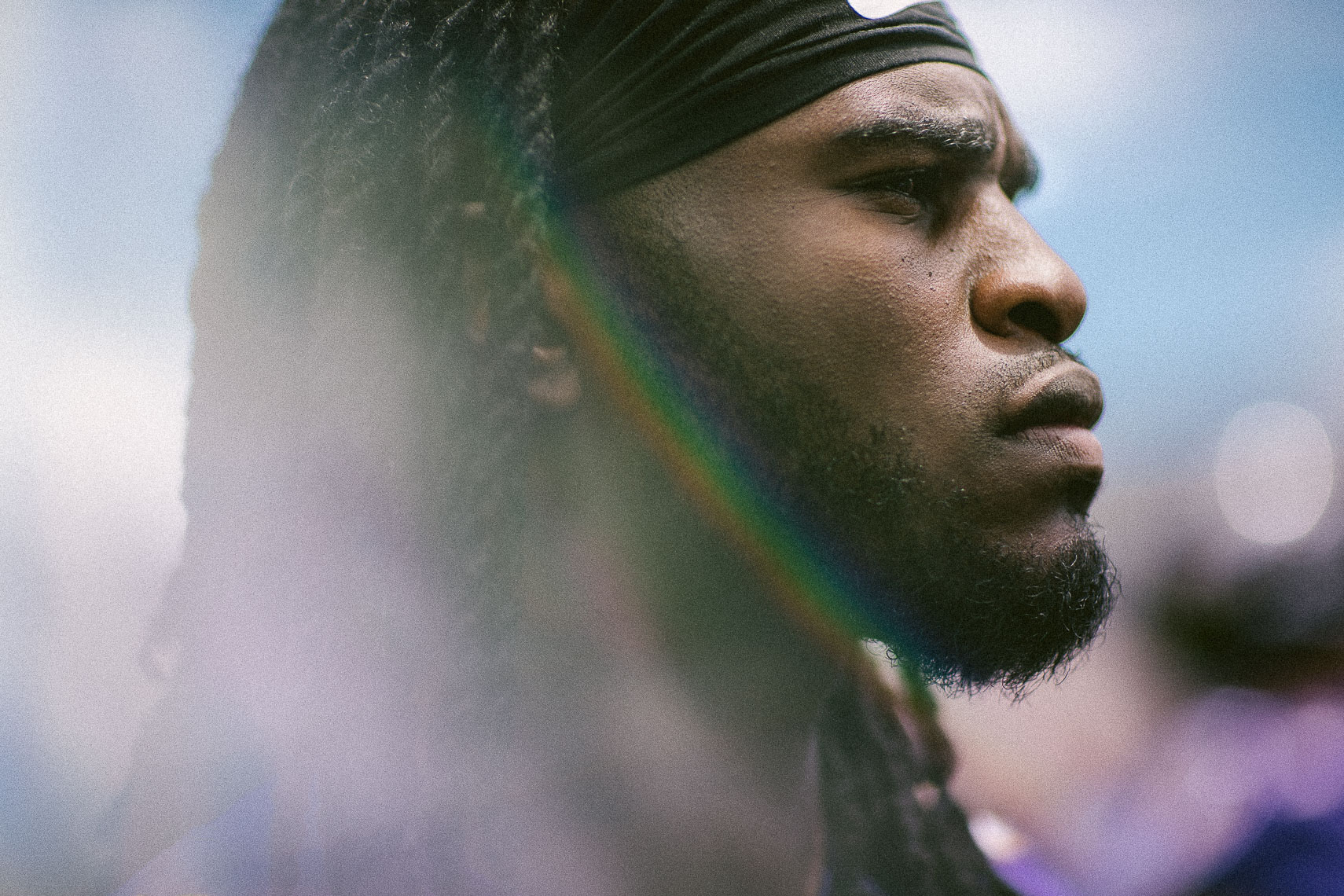 What is your favorite image you've taken?
I don't have just one. I get this question a lot, and I think because I shoot a variety of genres, it's impossible for me to settle on a single image.
As a sports photographer, what are the most challenging and rewarding aspects of the genre?
I'd say the most challenging aspects are making images that are sharp and well composed with clean backgrounds and at the same time capturing an amazing moment. It certainly starts with the moment, but especially with sports photography, there is a lower tolerance for images lacking technical proficiency than some other genres. When all those factors align AND you can make a truly unique image that is different from all the other photographers next to you on the sideline, that's pretty special.
What is your typical gear setup?
Since I shoot a lot of different things, my kit varies quite a bit from project to project. Overall, I shoot with either a couple of Canon 1DX Mark II bodies or the Sony a7R III. most of the time I'm shooting at 35mm, 50mm or 85mm. But, for example, my kit for the NFL is a bit more specialized than a typical shoot. As far as lenses go, for pregame stuff when I can get close, I still prefer to shoot with a 35mm, 50mm or 85mm, but sometimes it's a 24-70mm and 70-200mm if I need the flexibility. During the actual game, I have three Canon bodies with either a 400mm, 70-200mm or 24-70mm. After the game I switch to a 16-35mm for fighting my way through the media scrums to get images of handshakes, celebrations, etc. When shooting live sporting events, I often trade my primes for zoom lenses (except my 400mm) because they tend to track focus better and the larger focal range gives me a better chance of getting the shot no matter where the action occurs considering I can't always move to where I want to be.
How do you hope to see your work evolve over the next 5 years? Any upcoming projects that you can tell us about?
That's a tough one, but I think overall the biggest challenge in this industry is making images that stand out and push the boundaries of creativity. Being able to make "good" pictures isn't good enough to build a career on. I hope that creatively I'm able to develop new refreshing concepts and stories and translate them visually in a way that is unique.
More of Shawn's work can be seen on his Website and on Instagram