ELO Films
Celine Held and Logan George are a co-writer / director duo, based in Brooklyn, NY. Their short films have premiered in competition at Cannes Film Festival, Sundance Film Festival, Telluride Film Festival, and at South by Southwest. Their films have won awards at over 50 film festivals around the world. Logan & Celine were named among Filmmaker Magazine's 25 New Faces of Independent Film in 2017.
When did you first get into storytelling?
We both majored in drama at NYU Tisch, and started to take a lot of interest after university in telling stories that we couldn't tell just using ourselves, or only through acting. We started to write together in 2015, and made our first short films in 2016.
How did you two meet and start making movies together?
We met at NYU in 2010. We started collaborating on our feature film script in 2015, and made 3 short films 2016, then 3 in 2017. We eloped while we were working in Tokyo January 2017. We began with our commercial work: we did, and still do, a lot of work as a two person crew, for mostly international schools and nonprofits. We love working in that way, and it's helped us find a language between the two of us, and really define our style… and our commercial work has funded all our short films, so it's definitely been a necessity for us.
How are your early films compared to your current ones? What was the biggest improvement?
We started as a two person crew in 2016 with our short film FEVER, then started working with a small crew on our next two shorts, VALENCIA ROAD and MOUSE. Our films of 2017, CAROLINE, BABS, and LOCKDOWN, we shot with bigger crews. We've really found a solid dynamic of fleshing out as much of the story visually as possible together in pre-production (shot-listing, storyboards) so that we're both on the same page. We don't like our films to live in any sort of compromised vision or middle ground, so we figure out where we have any disagreements beforehand, so that we can make the strongest choice as a team on set.
Since VALENCIA ROAD, all of our films have been shot by Lowell A Meyer, and since CAROLINE, all our films have been produced by Kara Durrett. Kara is also producing our upcoming feature, and Lowell is shooting it. It's been really instrumental to find a team we can lean on and trust, and we feel we've found that in Kara and Lowell.
Do you share all responsibilities when directing? Or are there certain aspects one of you handles better than the other?
It's always our goal that we can be on opposite sides of the set, talking to different departments, but we're saying the same thing. We do an exhaustive amount of pre-pro so that we are on the same page about everything, and can work together to find the best moments from our actors.
How personal was "Caroline" to you?
CAROLINE came from three news stories about three different mothers who left their children in cars - two for job interviews, and one for her final nursing exam. They all had their children taken from them temporarily, paid fines, some are still on probation years after the incident. The law in certain state makes it out to be a black and white issue, but we felt like there was a lot to explore in the specifics in some of these cases. So the goal was never to paint with broad strokes or have a heavy-handed message, but rather portray everyone trying to do the right thing, with no heroes or villains. The character of Caroline became a great proxy for the audience- this unbiased, innocent view into the world.
How did the idea for "Lockdown" come about?
The initial concept came from the photograph ON LOCKDOWN by Alec Soth. Soth describes how the girls in the photo were so nonchalant about the drill. We felt like, as striking as the photo is, it's akin to how we felt about a fire drill when we were in high school. Celine had a moment in middle school where a kid pulled a fire alarm and there was an altercation. That real life experience became a throughline in exploring 2019 middle school, and what was actually important to these girls, rather than focusing on the drill itself.
Directing kids can be quite a challenge, but you manage to execute it flawlessly. What's your process?
Thank you so much. Kids are inherently magic and nothing we could write or direct could be as beautiful as whatever they come up with, so for us it's about giving them stimuli, working with the adult actors to be as flexible as possible with them, and being open and ready for whatever they give. We don't give children scripts or have them memorize any lines. We've rewritten our scripts based on the kids we've cast, and we spend a lot of time getting to know them. For CAROLINE, we lived for the family for a little over a month before we shot the film, and Celine played their mother in the film, allowing us to direct from the inside out.
What do each of you do to get inspired?
We read a lot of stories on reddit, Quora, look at photos of the year from NYT or Time Magazine, find small newspapers online from different parts of the world. We love taking the seed of a story and expanding it - throw characters into a situation and basically see what happens. We watch a lot of short films, a lot of Staff Picks on Vimeo, and we go to the movies as much as we can. We try to see all kinds of films, different genres and budget levels, because there's a lot that you can co-opt from more "mainstream" movies and inject into indie work.
Any advice for upcoming filmmakers?
We've had a short career as filmmakers so far, so it's hard to offer advice at this stage- there's still a handful of rungs on the ladder to climb before we're actually making a living as directors. In a purely creative world, being totally invested and in love with your story really helps you over the speedbumps of the production process. The stories we've invested in had elements that genuinely excited us, that we felt like we hadn't seen before. Everyone has to drink their own kool-aid a bit, but that sensation that you're treading new ground narratively or aesthetically acts like a contract with yourself, and you need that kind of mandate or vision to get you through tough choices with a small budget, or on set, or in the edit, or re-working the sound mix one last time. The best thing about us both being directors is we get to call each other on our bullshit, so no idea is too precious and above scrutiny, and that mentality helps trickle down to all the other departments and allows us to really kill our darlings, take the notes we want and throw out the rest, but never be too precious about any of it. Definitely seek out critiques from people you respect and who will be honest with you.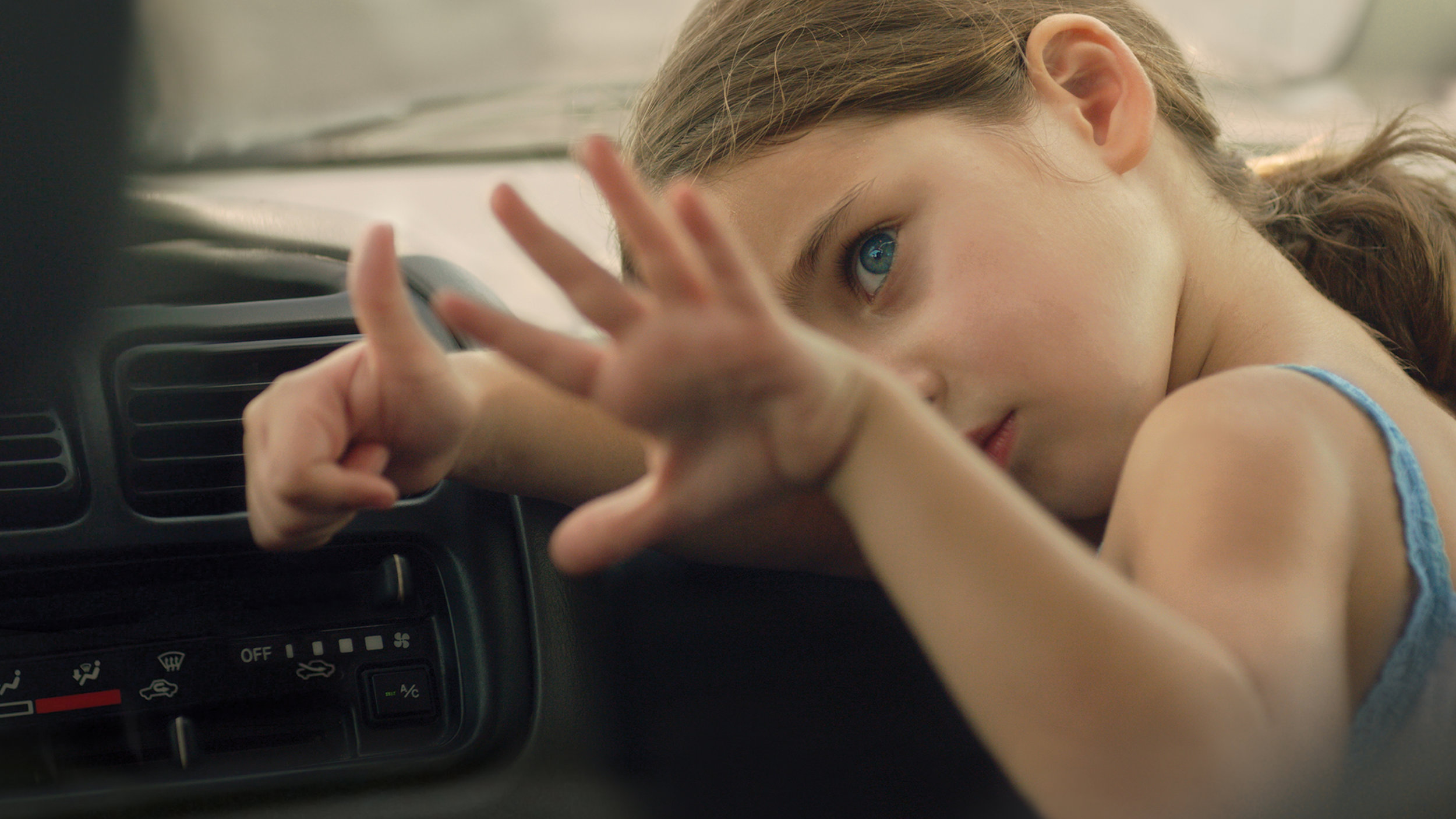 What's next for ELO films? What do you plan on doing with "Lockdown" after SXSW?
We are currently in pre-production on our first feature film, shooting March / April. Our feature is the story of a five-year-old girl who lives in the tunnels beneath New York City. It's been a 8 year journey so far with this feature, so we're still pinching ourselves that we're actually making it.
CAROLINE will be in Alamo Drafthouse theaters this coming April and May. LOCKDOWN will go public on Vimeo within the next couple months.
More of ELO's work can be seen on their Website and on Vimeo