From Crowds to Camaraderie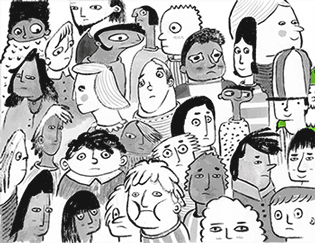 These illustrations depict various close and condensed interactions between humans, delving mostly into the psychological realm. The artist, Yuko Okabe, always feels anxiety in bustling social situations such as cities and parties yet somehow she feels compelled to create arrays of "human packs" in her work. In this selection, she depict the cons and pros of crowds ranging from her inner conflicted monologues to sweet memories to the beauty of camaraderie when diverse bodies come together.
About the Artist
Yuko Okabe is a Japanese American, Boston-based illustrator with familial ties back in the great land of Northern New Jersey. Since little, she always loved creating stories, doodling comics and long nonsensical epics on the back of her father's lovingly donated chemistry papers. She received her BFA in Illustration from the Rhode Island School of Design in Providence, RI where she also delved in courses relating to design, toy-making, game-making, and whatever peaked her curiosity. Her involvement in community service at school encourages her now to seek opportunities that can help reach out to people on an emotional level: she's interested in ways that illustration and storytelling can help people through difficult times. Her previous internship with the Boston Children's Hospital and her current work with the start-up Neuromotion-Labs allows her to use her creativity to help children and family develop coping mechanism through games.
Yuko's prime medium of choice is ink with some touches of watercolor, graphite, gel pens, and fiddling with Photoshop. Currently, she's developing two picture books with her agent at Writers House. On the side, she likes running, cooking, reading (if she has the time), and volunteering.
More of Yuko's work can be seen on her Website and on Instagram